E
errol Spence Jr.'s resurrection is completed, as the WBC and IBF welterweight titleholder is geared up to face WBA world champion Yordenis Ugas for the welterweight unification clash, headlining a SHOWTIME PPV on Saturday, April 16 in a Premier Boxing Champions event from AT&T Stadium in Arlington, Texas.
Spence Jr. (27-0, 21 KOs) will make his first appearance in almost a year and a half after a sequence of events forced him to take an unwelcoming break from the scene – events that almost turned his world upside down in a flash.
It was the early hours of October 10, 2019, when Spence was involved in a life-threatening accident in his hometown of Dallas, Texas. The Southpaw was driving his Ferrari 488 Spider at high speed when he lost control, causing the car to veer left over the center median onto the southbound lanes, flipping multiple times on the road. During the process, 'The Truth', as he is known in boxing, was ejected from the vehicle as he wasn't wearing a seatbelt, and later it was revealed that he was driving under the influence of alcohol.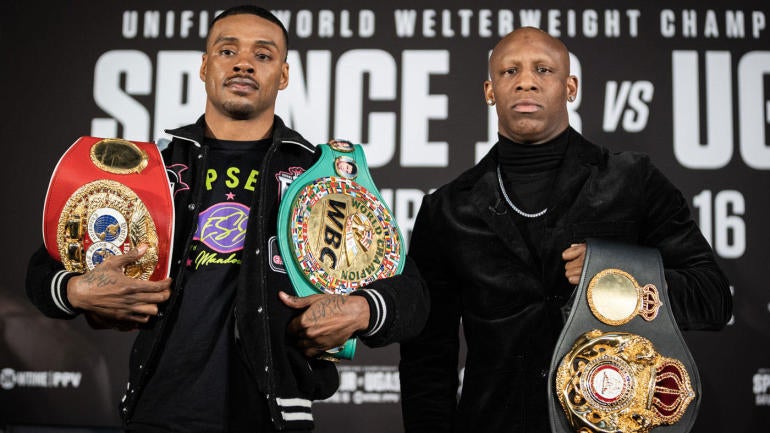 But astonishingly, Spence walked away with no broken bones, only sustaining mild facial lacerations. The Texas-native then received severe backlash after posting "No broken bones, I'm a savage!!" on Instagram – forcing him to delete the post.
After recovering from the incident, Spence did make his comeback against Danny Garcia for the WBC and IBF welterweight title in December 2020, winning via unanimous decision. Despite coming out on top, many boxing fans questioned Spence's approach, as he looked a bit off, something that Ugas' trainer Ismael Salas noted.
"I watched Errol Spence fight Shawn Porter, and then I watched Errol Spence fight, Danny Garcia after Spence had his accident. It was not the same Errol Spence Jr. I do believe he lost something between the Porter and Garcia fights," Salas told media in Dallas last month.
Unfortunately, for Spence, he was set to challenge an icon in boxing, former eight-division world champion Manny Pacquiao. But during training, Spence noticed an issue with his eye, and it was later discovered that he suffered a torn retina, which forced him to pull out of the fight. The 32-year-old Spence says he is healed and ready to dominate tomorrow night.
"I'm the guy everyone is talking about. The motivation I get from my family and friends allows me to push through everything I've gone through," Spence said in a press conference held last month.
"At the end of the day, I want to be the undisputed welterweight champion of the world. This is another step toward that goal. I've been the shot caller. I'm the big fish at 147." Spence added.
A win against Ugas will clear the path for a potential showdown against what some consider the best in the world, Terence Crawford – a fight that boxing fans have been craving for a long time. Crawford holds the WBO title and is no longer under contract with Top Rank, which many believe was the reason why the Crawford-Spence fight hasn't materialized, given that Spence is under a promotion with PBC.
What does a win against Spence mean for Ugas?
Ugas (27-4, 12 KOs) is viewed as a legitimate threat, given that the Cuban has earned the right to share the ring with Spence. Ugas is confident heading into this fight after coming off the biggest win of his career when the 35-year-old Ugas outboxed Pacquiao to win the WBA belt.
Ugas was set to fight under the Spence-Pacquiao card, but after Spence pulled out of the fight, the veteran Cuban took advantage of the opportunity. He pulled off the upset. For the Spence fight, Ugas plans the road to living his 'American Dream', and should he win, his career will take on a new definition. But despite all the recent limelight, Ugas is trying to stay humble, as he focuses on Spence.
"The Pacquiao fight was a great night for me. After that fight, my life changed in even more ways. But I've always kept myself humble. I showed everyone who the WBA champion was. I have my eye on continuing to make history." Ugas spoke during a media workout in Dallas.
Should either boxer fight, the winner will capture three of the four major sanctioning titles at the welterweight.