F
rankly, it's challenging to write an article about boxer Adrian Broner.  After all, he's been in the sport for 14 years and is a former four-division title-holder in the 130lb, 135lb, 140lb, and 147 weight classes.
Now common sense says, those who care about boxing should talk about achievements, not take a peek at his tabloid lifestyle.  In fact, as sickening as it might sound, it's easy to engage in guilty pleasures when reading about Broner, which is sad and alarming knowing that this man is on the verge of long-term destruction.  And for those who dislike boxing, they can rightfully point out Broner as the perfect poster boy for brain damage, although there is no evidence that he suffers from such illness.
Nevertheless, it's difficult to like Broner or feel sorry for him, especially if he behaves as if he doesn't give a hoot about himself.  He was arrested for DUI and served jail time due to a probation violation for a 2018 arrest for "gross sexual imposition, a fourth-degree felony, misdemeanor sexual imposition and abduction, a third-degree felony".   In 2016, he took to social media and was said he planned to take his life.  He posted a photo of a gun inside a vehicle and wrote, "I'm going home, I love y'all." Hours later, he wrote, "3PM I'm doing it I'm sorry to my family and friends, but I don't want to be here no more. This shit too much." 
He admitted to struggling with alcohol use and sex.  He shows poor impulse during interviews, often using repeated foul language or talking about his opponents' nationality in degrading ways.  Against one opponent, Broner made the fighter miss, spun him around, and did a humping motion to the boxer's butt. 
 And still, yet, Broner finds himself headlining Showtime Champion boxing on Aug. 20th against long-faded Omar Figueroa in Hollywood, Florida. Now, to give Figueroa credit, he has shown some insights about his challenges with mental health struggles.  But up until this point, Broner, 32, isn't able to speak as eloquently about his untreated mental health.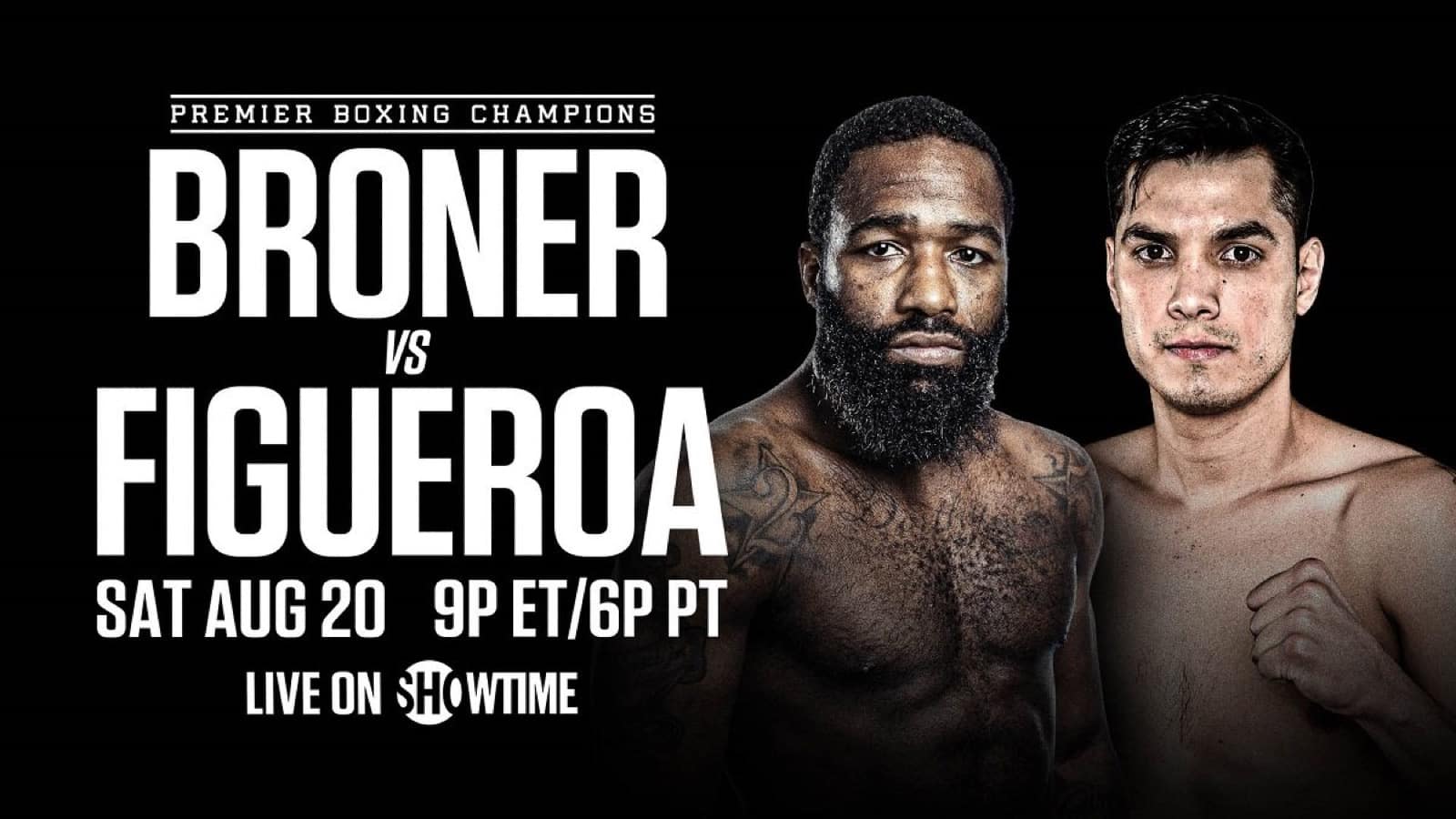 When Broner (34-4-1, 24 KOs), did compete against top competition, he lost to Mikey Garcia in 2017, drew with Jessie Vargas in 2018, and was beaten handily by Manny Pacquiao in 2019.  So, with these stats in hand, it would make sense why Broner's career hasn't sparked interest on the highest level, although, to Broner's credit, he has a name in the sport.
During the press conference for his fight with Figueroa, Broner took questions from reporters.  Initially, things got off the runway a little bumpy.  But by midair, the turbulence was in full force, so much so, that Broner left a virtual press conference before it was over.  Broner's bone of contention was how he felt Al Haymon, one of boxing's most powerhouse promoters and Broner's, and Showtime President Stephen Espinoza, elected to have the first press conference via Zoom. 
When the host of Showtime Championship Boxing, Brian Custer, tried to explain to Broner that first press conferences are held via Zoom, Broner turned a deaf ear.
I'm gonna be a hundred percent honest with you, Brian, I ain't with none of the shit they got going on. I feel like Al Haymon and Stephen Espinoza are bullshiting  because, why is we doing a press conference on a computer when you guys. They don't do Floyd's  [ Mayweather's] shit  on the computer when you fight a YouTuber [ Logan Paul]" said Broner.   He went on, "they don't do anybody else shit on the computer, but they want to do my shit on the computer." 
However, in true  Broner fashion, he turned up the antic.  "That's telling me they don't give a fuck about me. So when you say it's fuck k me, it's fuck y'all, and at the end of the day, that's what I really just came here to let y'all know. Anybody can see it at this point y'all been supposed to make this fight [with Figueroa] , y'all given us dates, y'all keep pushing dates back like man, come on! who do a six-month camp?"
Between fights, Broner's weight reaches between 180 and 190 pounds.  When he steps into the ring on fight night against Figueroa (28-2-1, 19 KO), he will compete at 140 pounds, a number he has not seen since 2017.
But when a fighter isn't able to control his animalistic ways in society, that's when serious trouble begins.   Broner,'s ring aliases are The Problem, Lil Brother, and About Billions" and at times, he takes these nicknames too far.
The following is a timeline of Broner's unstable moods, thought disturbances, and behavioral problems
 In June 2018, Broner attended a nightclub in Cleveland' when he took it upon himself to sexually assault a woman.  The victim reported to law enforcement that Broner pushed her on the couch, got on top of her, and aggressively kissed her. The victim's friend sought bystanders' help. An individual threatened to take Broner's photo forcing the boxer to release the woman.  
The victim brought a lawsuit against Broner and the fighter, who makes his own rules that often show a lack of empathy toward others, failed to attend the hearing; the judge overseeing the case ordered Broner to pay $800,000 in damages to the woman and pay her court costs. Broner made his hearing and testified that he could not pay the victim because his net worth was $13.65 in cash. However, his earnings throughout his boxing career were $1.5 million, 1.25 million, $1.35 million, and more.
Broner's lack of insight and sound judgment has been well-established, as evidenced by releasing a video on his Instagram showing over $50,000 in cash last month.   This incensed the judge, and last Monday, Broner was put in jail since he failed to meet the deadlines in paying his victim and the fighter lied about his net worth.  
For some reason, the judge released Broner but gave him a stern warning that the boxer needed to give a full account of his finances to the victim's lawyers; if not, "I have the right to hold you in contempt you answer every single one of these questions," the judge told Broner.  "Make life easy on yourself and answer the questions [ about his finances].  Stay off Instagram…think about how much trouble Instagram has caused for you. And for what? If you think people are not watching your social media, you're wrong," the judge said.
Continued Legal issues:
In 2007, he was charged in Hamilton County with aggravated robbery and felonious assault. Police said he used a firearm and a club in the offense.
In 2008, he was arrested after Cincinnati police said he was caught unlawfully carrying a .32-caliber Smith and Wesson revolver and intimidating a witness in separate incidents.
In 2014, the World Boxing Council temporarily suspended him for making racially insensitive remarks during an interview after beating Carlos Molina in Las Vegas.
In 2016, he was charged with misdemeanor battery for allegedly choking a waitress at Drai's, a nightclub in Las Vegas.
In 2016, he was accused of beating a West Chester man and robbing him of $14,000 during a gambling dispute outside a Madisonville bowling alley.
In 2017, "police stopped him after driving in a bullet-riddled, white Chevrolet Suburban. Cincinnati police linked Broner and the vehicle to reports of shots fired around West McMicken Avenue and West McMillan Avenue. Ten 9 mm shell casings were recovered at the scene. There were eight bullet holes in the SUV, police said. Broner told police someone shot at his vehicle after following him from the G'Moni's Bar on Queen City Avenue in Westwood. He was not injured. Covington police arrested him for an open warrant from 2014 on alcohol intoxication in a public place and disorderly conduct charges and the SUV was held for investigation."
In 2017, "TMZ.com reported an incident in Las Vegas that was caught on video of him knocking out an agitating fan. TMZ Sports obtained and posted an edit of the video, which started with Broner taking pictures with fans. A moment later a man began to heckle Broner. Adrien became aggressive as his female companion tried to restrain him but Broner shoved her away and then ferociously delivered a blow that reeled the agitator backward, knocking him out.
Broner was issued a summons on October 26 but was returned on November 8 and was "not deliverable as addressed; unable to forward." The records did not give a reason as to why the summons was not able to be delivered. He subsequently was scheduled to appear in court for arraignment but the Las Vegas Justice Court stated Broner failed to appear. A warrant was then issued for his arrest. According to TMZ, it reached out to Broner who told them he "didn't know about the hearing — and if he did, he would have appeared."
In 2018, he was booked into Fulton County Jail in Atlanta on a misdemeanor sexual battery charge but was later released on bail. In 2019, he was ordered to pay over $830,000 for sexually assaulting a woman in a Cleveland nightclub on June 18, 2018. In 2020, he was arrested for DUI.
And so, the story will go on and on for Broner. But hopefully, before it comes to a fatal end, those around Broner will encourage him to get the necessary help.  Many boxers have the faulty thinking that the sport is their lifeline.  And while that might be the case here and there, boxing isn't meant to be a lifesaver.  To the contrary, it can take lives at any moment, and let's hope Broner's ending isn't a sad saga that ends with his career achievements being brushed aside all because of his unwillingness to address his mental health needs.